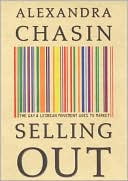 Alexandra Chasin is an American professor of literature and LGBT studies. Chasin's book is a fascinating and damning account of how market forces have fundamentally altered (and destroyed in some ways) the revolutionary potential of LGBT movements.
From the beginning (if there ever was one), LGBT movements have called for a fundamental rethinking of gender, family, and eros. In the U.S., until the 1990s, these movements were local and fragmented in nature, goals were similar but local LGBT groups dealt with local communities to tackle problems of discrimination, etc.,. Local bars funded local LGBT publications.
As noted in Fetner's
How the Religious Right Shaped Lesbian and Gay Activism
, the direction of these movements in the U.S. became unified and nationalized in the 1980s. Fetner describes how the religious rights' unified and nationalized political activism ended up pushing local LGBT activism into a nationalized cause. For Chasin, the nationalization of LGBT magazines in the early 1990s in the U.S. signaled the transformation.
Chasin's work which came out in 2000 explored how LGBT-targeted market forces -- such as the LGBT press, advertisement industry, boycotting, and the funding of LGBT NGOs -- has created a form of identity-based consumption and politics that stand in opposition to economic and social justice for all.
Chasin shows how economic boycotts convert demands for social justice into "one buck one vote" and how economic boycotts only work if the wealthier classes are involved. She write:
Boycotting masks the fact that choice -- that highest liberal value -- is always invisibly and radically constrained by the options presented, is not supremely embodied by individual consumers, and is, above all, exercised by the class of people that benefits from unrestrained corporate activity. Even if corporations can be made to change policies unfavorable to gay men and lesbians, even if they make contributions, their primary function is still to amass capital in the hands of a few, mostly already rich white men.
She also goes into detail about how the LGBT activism's move into the NGO word has altered its revolutionary potential by the strings that attach to continued funding. This has been further developed for all social causes by the INCITE! Women of Color Against Violence's book
The Revolution Will Not Be Funded
.
Chasin uses the well-known case of Lamba Legal Defense and Education Fund and New York's Lesbian and Gay Community Center's
Miss Saigon
fundraiser. Asian Lesbians of the East Coast (ALOEC) and Gay Asian and Pacific Islanders Men of New York (GAPIMNY) met with these two LGBT NGOs to discuss withdrawing their planned Miss Saigon fundraiser (because it negatively portrayed Asians). The Community Center withdrew, but Lambda insisted. Chasin showed how Lambda's response exposed the classist and racist dimension of national LGBT NGOs and their refusal to participate in broader social justice movements.
The version I read was a 368 page hardback published by Palgrave Macmillan (June 2, 2001), ISBN-13:
978-0312239268
. It is written in English. Definitely worth reading if you are involved in LGBT activism and social justice movements.
The least expensive copy of the book can be found at
abebooks.com
.