Esera Tuaolo is a Samoan man who was a nose tackle in the National Football League (US) and then, at the end of his career, came out of the closet as gay -- being only the third player or ex-player to do so in the organization's 89 year history. He wrote his autobiography,
Alone in the Trenches
.
So I'm not really a big fan of autobiography, but that is because I'm not really a big fan of anyone. I once recommended this book to an acquaintance I knew who was gay and a Samoan football player (there are many). I hadn't read the book. I had only read something online when it was first published. I don't think my acquaintance every read the book. But I stumbled upon it some how and read it recently.
He was born and raised in Hawai'i and then moved to the U.S. West Coast as a teenager. He was molested by his uncle repeatedly and frequently. He had an older gay brother who died of AIDS. He spent a substantial amount of his time as a professional football player constantly worried about being found out gay. He is also really super Christian. Okay, so that's the book in a nutshell.
Having had many friends and interests who were Samoan, I think the book, although not the tightest piece of prose written, would be very accessible to the audience it is most suited to: young Polynesian men struggling with issues around their sexuality.
He also says something quite profound about surviving sexual abuse/incest -- although he is a little nutty on the Christian stuff. But, hey, didn't everyone go through a nutty religious period at some point in their lives? I think for survivors of sexual abuse that have questions about their sexuality, his insight is important and significant.
I don't follow any sports really -- except the summer Olympics -- so a substantial portion of his story about what it's like to be an American football player wasn't particularly interesting. For younger people who are in sports, it really would be interesting.
I also found it interesting that the Samoan community didn't embrace his disclosure and I guess no surprise, Greg Louganis, another gay Samoan, didn't really make an impressive splash in the Samoan diasporic community with his coming out either. Of course, Greg Louganis was adopted at birth by white American parents and didn't have any real strong ties to the Samoan community. Tuaolo claims to descend from a chiefly line and was connected right in with his family/community from birth.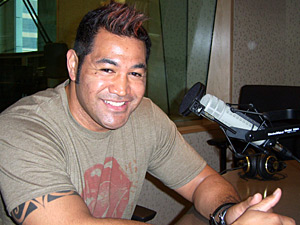 If Tuaolo's autobio ever became a movie like Greg Louganis -- which I doubt -- I wonder who would play the handsome Tuaolo (o Tuaolo o le alii aulelei). I doubt it would be Mario Lopez, he's hot but he is way too skinny. I think it would be hot if Dwyane "The Rock" Johnson played Tuaolo. I remember all these "straight" Samoan guys swooning over his poster when he was a professional wrestler. I don't think he's got the same facial features or skin tone of Tuaolo, but he's got the build and is a decent actor.
So, in this long, rambling and unfocused book review: I'd say, pick up a copy if you like biographies, autobiographies, men in sports, Polynesians/Polynesian culture or Christ. Or, if you are a survivor of sexual abuse or a young impressionable Polynesian youth.
The version I read was a 288 page hardbound published by the Sourcebooks Inc (July 1, 2007) ISBN: 978-1402209239. The book is written in English.The lowest price was at
abebooks.com
.