(GMA at Present)
Two separate articles in today's Philippine Star about conspiracy theories regarding GMA impel me to expound my beliefs regarding the reasons for various decisions on the part of the Malacanang Palace regarding
martial law declaration
and
running for Congress
.
I too don't believe GMA has declared martial law in Maguindanao because a politically powerful clan that is very close to the government went on a murderous rampage slaughtering dozens of people and about to engage in rebellion. I too don't believe GMA is running for Congress simply to continue serving the public or even something as mild as shepherding a structural change to government so she can return as head of government.
I think GMA is running for Congress (and has declared martial law) because after she sabotages every vestige of the national government in May of next year, she will invoke an obscure pre-Isabelan Spanish legal doctrine with the help of her House allies to be crowned Reina de las Indias orientales y occidentales -- to the ire and jealousy of all of the closet baklas in the opposition. Under this scheme, she will forever rule the Philippines, Guam, Saipan, Palau, Micronesia, Mexico, Central America and the Western half of South America.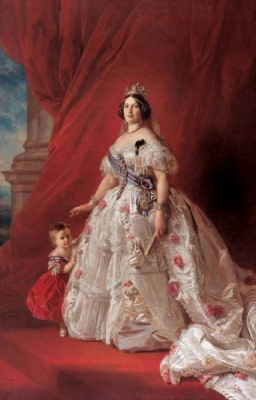 (GMA after the May 2010 polls)
From here we can only speculate that she will use even more obscure pre-Westphalian Vatican legal doctrines to become the Anti-Christ ruling over all of mankind until Judgment Day.
(Speculative Rendering of GMA upon ascending to Rulership of all Mankind)