I don't know how else to describe it. This movie is really, really cleverly presented hard core pornography. There isn't any other way to describe it and, yes, I was surprised.
The movie is about a woman and her straight comrades embarking on the "Homosexual Intifada" the "Homosexual Revolution." One by one, including her boyfriend, she uses heavy classical Marxist slogans with ideas of Herbert Marcuse and William Reich to get them to have sex with each other: "Put Your Marxism Where Your Mouth Is" That's when it occurred to me that the revolutionaries are all gay porn stars.
Now, years later after I have "turned" into a "counterrevolutionary", I find the whole approach hilarious. I'm not sure exactly what the director is trying to comment on -- whether he is making a statement about the "true" incompatibility of heterosexuality with a true revolution; the failure of binary oppositional thinking in classical and neo-Marxist thought; or just wanted to tease the homophobia of many Communist parties by doing gay porn juxtaposted against constant neo-Marxist and new Left sloganing.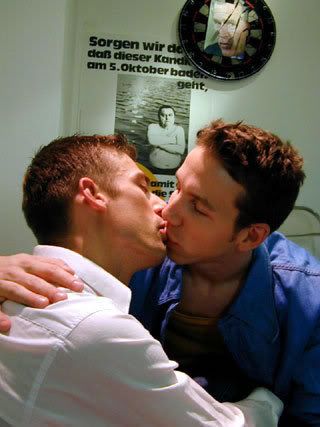 In any event, parts of it were boring, but if you used to be a revolutionary or still think you are one, it wouldn't hurt to watch it and make your own judgment. However, if you have little or no exposure to Marxist thought, I'd either skip or watch solely as Euro-porn.