Y
ou already have the information. All the names and dates are inside your head. What you want, what you really need, is a story.
A decade ago, Estrada was impeached and on trial. The Senate holds the constitutional prerogative to try impeachments of senior political office holders, including the president and chief justice. Yet, the Senate was unable to conclude the trial and people took to the streets with the support of former presidents, the business community and others to force the ouster of Estrada.
This came to pass. And the up-and-coming politician, little Gloria Macapagal-Arroyo was declared President. This act was not constitutional. Regardless of your feelings towards Erap or the hirap, Arroyo did not ascend to the presidency through constitutional means. This was eventually legitimized by the Supreme Court through the legal fiction that Estrada had resigned. Even in my interest to have Estrada out, I turned a blind eye.
But the seeds of the present cancer were planted at that time. Then, Macapagal-Arroyo nurtured these seeds and eventually was able to remain in power for a decade. In the process, she and her group were able to corrode the democratic, political institutions of our country and politicize and corrupt the judicial institution of our country -- which was desperately and slowly trying to rebuild its credibility after two decades of Marcos.
Then, after probably stealing the 2004 presidential election, she apologized for it and spent the next six years plundering the country and enriching herself and her allies. Having packed the Supreme Court with her allies, she put icing on the cake, by making an unconstitutional midnight appointment of Renato Corona, her former chief of staff, as Chief Justice.
Although he whined, Noy Aquino did not challenge this immediately upon taking office. So, when it came time to begin prosecuting the corruption of Arroyo -- which has been very painfully slow -- suddenly the Supreme Court with the Chief Justice at its head, starts moving mountains (and travel documents) for Ms. Arroyo.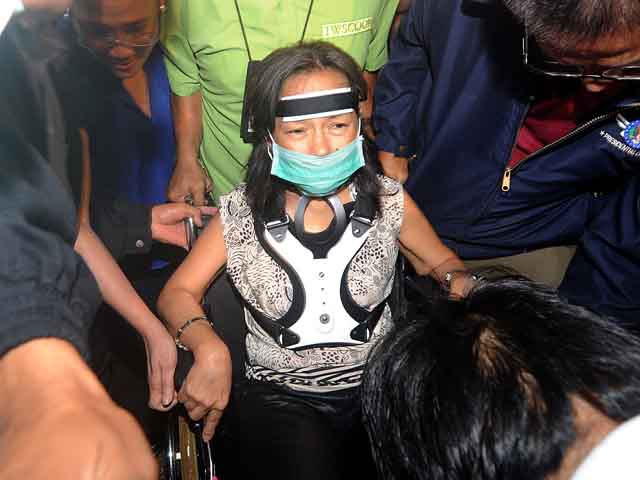 Well certainly there are those more responsible than others, and they will be held accountable, but again truth be told, if you're looking for the guilty, you need only look into a mirror.
And that is how we have ended up now, with the situation we have. The purging of the Supreme Court by means of impeachment and removal trials is the only democratic and constitutional process by which the President and Congress have to check the power of an illegitimate, partial, biased and corrupt Supreme Court. No matter how uncomfortable it is, we again find ourselves where we were decade ago in a removal trial of an impeached senior office holder. Right where we began this story.
There's no certainty — only opportunity.
Today, instead of the people marching, we have judges canceling their calendars and marching to support Corona as though they were political activists, in violation of their ethical duties as judges and judicial officers to avoid politics and even the appearance of political involvement. We can only see the corrosive effect of ten years of Arroyo lawlessness and the corrosive effect it has had on the judiciary and how that corrosion has affected our judges and our country.
It is to Madame Justice that I dedicate this concerto, in honour of the holiday she seems to have taken from these parts, and in recognition of the impostor that stands in her stead.


Fairness, justice, and freedom are more than words, they are perspectives. So if you've seen nothing, if the crimes of the last government remain unknown to you then I would suggest that you allow this to pass unmarked. But if you see what I see, if you feel as I feel, and if you would seek as I seek, then I ask you to support the constitutional process for removing Corona and other justices who have breached their trust to the public as the final arbiters of the law.